The WTF Game on 8iz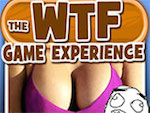 Use your skills to complete each level. Fill up your glass and enjoy this extremely funky game.
How to play:
Mouse to interact
Author:
Lagged
→Recommended related game:
Pineapple Pen Online
The WTF Game is a free online wtf game that you can play here on 8iz. It has been played thousands of times and has a rating of 7.9/10 (out of 2,048 ratings). The WTF Game is another one of the many
wtf games
that we offer. If you enjoyed this game and want to play similar games make sure to play Yeah Boi or The Most Wonderful Game or just go to our
meme games
page, the
funny games
page and the
sexy games
page, or if you want to see all of the games we have view the
top games
page.
More »