Torture Game 3 on 8iz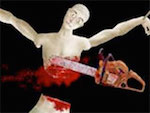 Use different weapons ranging from swords, fire, chain saw and more weapons to make the ragdoll character as bloody as possible. Take out your frustration in this gory game.
How to play:
Mouse to interact
Author:
Lagged
→Recommended related game:
The Torture Game 2
Torture Game 3 is a free online torture game that you can play here on 8iz. It has been played thousands of times and has a rating of 8.2/10 (out of 3,049 ratings). Torture Game 3 is another one of the many
torture games
that we offer. If you enjoyed this game and want to play similar games make sure to play Torture Chamber 2 or Stair Fall 2 or just go to our
gore games
page, the
ragdoll games
page and the
bloody games
page, or if you want to see all of the games we have view the
top games
page.
More »